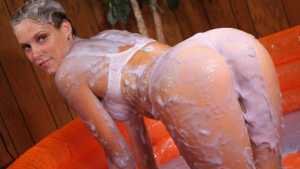 Swirls of Mucky Fun!
added 8/24/12
When I put together this slippery concoction and filled the baby pool with it, I didn't have much hope of it looking good when Angel was covered in it. Boy was I wrong! When she started in the goop...
see more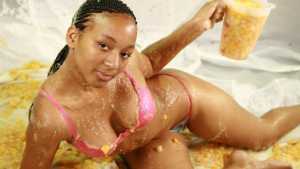 Cocktail Tease
added 8/03/12
Introducing Vixen in her very first wam shoot ever. I've never seen a model have so much genuine fun slipping and sliding in the muck. She was a natural ad spreading the fruit cocktail over her body...
see more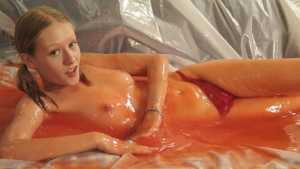 Cherry Slime Valentine
added 9/20/11
So what did Jersi do for Valentine's day? She had fun with three big ol' buckets of cherry slime, that's what! She starts off in a cute little red outfit with a white shirt over top, and a red buck...
see more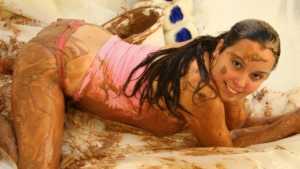 Chocoholic
added 9/03/11
This was shy Anna's first shoot ever, and at first she was nervous, but as you can tell in the video, she quickly got into it. Never having been a model, she didn't know all the poses, but as she got...
see more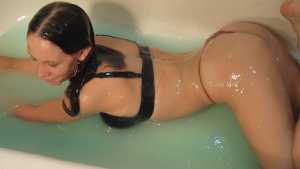 Slime Time!
added 8/25/11
Watch what Deja does with a few big buckets of lime-green slime. She wastes no time dumping it over her head, then frolicking in the tub until she's completely gooey. Shortly after her shirt becomes...
see more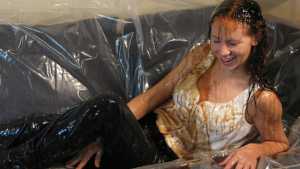 Syrup Rain
added 8/25/11
We decided to do a shoot with Deja on the couch this time. She had on her nice jeans and a nice white top, and was all ready to get sticky with syrup. The only thing is... how do you wam with syrup...
see more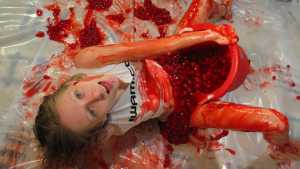 Cherry Poppin
added 1/09/11
She's got her iWam.com t-shirt on, and some little white booty shorts. With a red bucket of cherry pie filling, she's ready to go. Total head-to-toe coverage with the cherries is a must, but the shi...
see more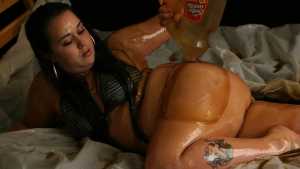 Thick N Sticky
added 8/25/10
Welcome Jewel to iWam, the girl who satisfies our need to see a thick girl get messy every once in a while. A thick girl in thick syrup, as a matter of fact! This is her first wam shoot, and she see...
see more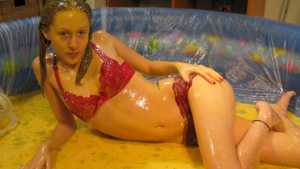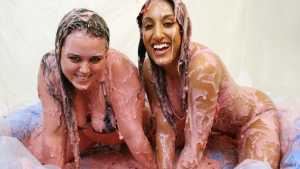 Random Glop Wrestling
added 8/10/10
For the first time Jewel and Sasha get messy together! Sasha is the experienced wammer and Jewel needed some teaching, so we cleared out a room, lined it with plastic and threw in a baby pool. Then...
see more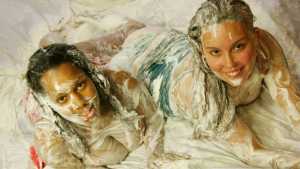 Christmas Coolwhip
added 6/03/10
Lifelong best friends Anna and Tiff decided to give this wam stuff a try. So just before Christmas we set them up with red and green lingerie, two santa hats, and plenty of Cool Whip... or should we...
see more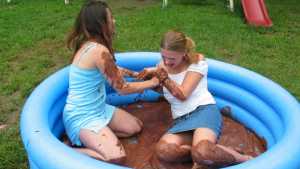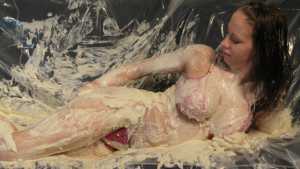 Creamed on the Couch
added 9/03/09
Welcome back the voluptuous Deja. This time she's on the couch with two buckets of... well... I forget exactly what it was. But she covers her pink shirt and jeans with it before stripping to what was...
see more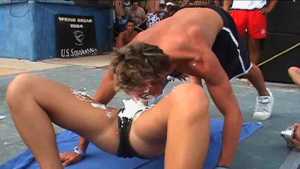 Creamed in Cancun!
added 9/03/09
Flash back to 2004, when the spring break party in Cancun was at the height of its craziness and raunchiness. Your humble correspondent was there next to the stage to capture a little "lick the cream...
see more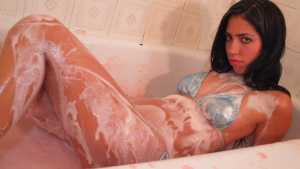 Skittles Makes a Milkshake
added 8/25/09
Introducing Skittle in her first-ever wam shoot. With 6 gallons of strawberry-vanilla and vanilla ice cream, she had plenty to play with. She started out waring a gray skirt outfit which she got total...
see more

Shorty in the Shortening
added 8/25/09
For some reason, Jersi was pretty excited about doing this shoot in this particular substance. It's liquid vegetable shortening, and it's a huge jug of it. She was not shy at all about dumping it over...
see more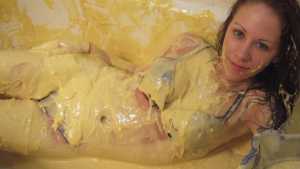 Sweet Vanilla
added 8/25/09
I think "vanilla and sweet" is the perfect description. Oh, and the cake batter was nice, too. :-) This time, Deja smothers herself in three big buckets of velvety smooth vanilla cake batter. She star...
see more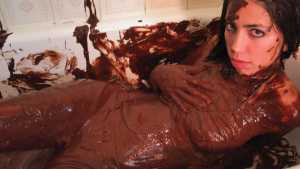 Skittles in Chocolate Cake Batter
added 8/25/09
Okay, so this update is total overkill, with over 1000 pics. But I just couldn't stand to erase that many pics from his photoshoot, so I just put most of them up. Other updates will be far fewer pics,...
see more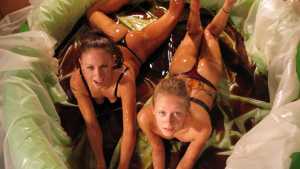 Syrup Wrestling
added 8/25/09
This shoot is from back in 2004, and was one of Jersi and Deja's first shoots. They wrestled for the first time in maple syrup, and plenty of it. They had their cute thongs and bras on, and had no res...
see more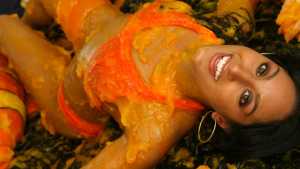 Sliming Nemo
added 8/25/09
News alert: we've just found Nemo. He's all grown up now and apparently he's addicted to wam. He's in Sasha's custody, on the bed, and ready to get all slimed up! There's nothing fishy about how Sahsa...
see more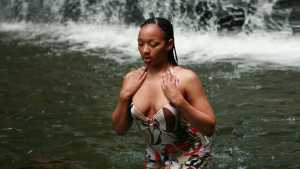 Wonderful Waterfalls
added 8/25/09
Vixen drives along through the valley, following the bends of the river, looking for a spot to pull over so she can take a dip. She finds one--one with a waterfall in it! And oh what a refreshing cool...
see more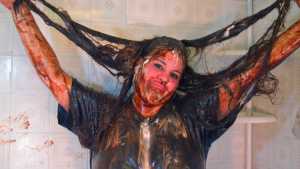 Cookie Chocolate and Cream
added 8/25/09
Cookie just loves wam. Sometimes she visits when I do shoots with other models and insists on getting messy herself, even if she doesn't get paid! This time she plays around in my tub with several bot...
see more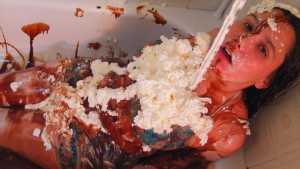 Laiya in Whipped Cream and Chocolate
added 8/25/09
This time, Laiya's in the tub getting covered in whipped cream and chocolate sauce. You can tell she's having fun, squirting it all in her mouth like she did on the blueberry syrup shoot. She strips d...
see more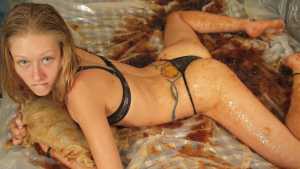 Jersi the Jellygirl
added 8/24/09
Introducing Jersi, the girl who just couldn't wait to play in applesauce. This evening when we were doing shoots, she just couldn't wait for her turn. "Can I play in the applesauce now?" she'd keep as...
see more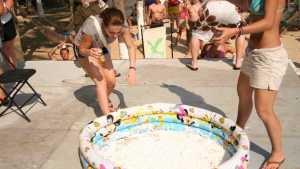 Canun Messy Condom Search
added 8/24/09
This spring break I was in Acapulco, Mexico working with a couple of companies to document the fun. You know whenever there's a messy contest, I'm there! So on this update you can see spring breakers...
see more