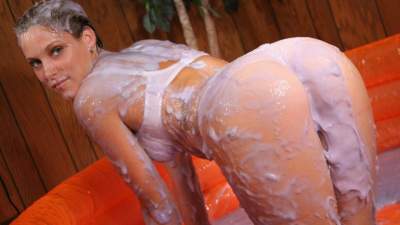 Starring the following model:
"This is the slimiest stuff I've ever made."
| | |
| --- | --- |
| File count: | 6 |
| Total size: | 586.34 MB |
| Total runtime: | 9 mins, 45 secs |
| Date added: | 10/01/09 |
| Reviews: | 2 |
| Views: | 11727 |
| Scene ID: | 45 |
When I put together this slippery concoction and filled the baby pool with it, I didn't have much hope of it looking good when Angel was covered in it. Boy was I wrong! When she started in the goop with he white shirt on and started slathering it on her chest, it kept looking better and better. It must have felt good too--look at the expressions on her face. Before she was supposed to, she took it and covered her face with it, taking us by surprize. She eventually strips down to her bra and panties and rolls around in the stuff. At first, she was saying eww this stuff is weird, but by the end of the shoot she just keps saying how nice and wonderful it was--go figure. After the shoot was over and we were putting our cameras away, she still just laid in the goo, loving every minute of it. So we had to take the cameras back out again and keep shooting! At that time I got her on film explaining what it felt like.

During cleanup, I stuck my hand in this stuff and it really is beyond words. I hope I can figure how to make it again because it was so thick, so slippery, yet it had the nicest subtle gooey texture to it that is hard to describe. That's why Angel was in heaven!

By the way, thanks to Angel's friend who helped with the pouring (there's a pic of her here somewhere). She wanted to do a shoot after seeing Angel in this stuff, but we ran out of time.

Note: Video uses background music.