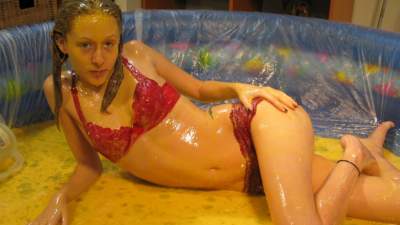 Starring the following model:
"She gets covered head to toe in raw eggs!"
It took two guys about 1/2 hour to crack all these eggs and empty them into two buckets. Even though they had been left out for a long time, they were still pretty cold, but Jersi took to them like a champ. She said they felt awesome, as she squished some yolks around in her hands. Before you know it, she's rolling around in them, getting her hair covered, and dumping pitcher-fulls over her head. Her cute red outfit look cool against the bright yellow eggs, too. I shut up more during this shoot, so I was able to edit in more of the natural sound. That means you can hear her giggles, screams, and eggs squishing between her legs. The rest of the gaps are filled by my own corny soundtrack

Note: Videos use background music.
| | |
| --- | --- |
| File count: | 12 |
| Total size: | 338.97 MB |
| Total runtime: | 11 mins, 12 secs |
| Date added: | 10/01/09 |
| Views: | 10403 |
| Scene ID: | 11 |